Aotearoa NZ
Ka
Tito
Au:
Kupe's
Heroic
Journey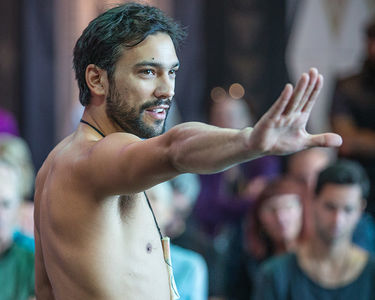 A lively, ingenious retelling of the adventures of Kupe in Aotearoa
Download the language resource for Ka Tito Au: Kupe's Heroic Journey here
Be swept along by the voyage of Kupe, the great Pacific explorer and navigator, in this richly imagined solo show by writer and poet Apirana Taylor.
Ka Tito Au celebrates the long ago exploits of a man many believe was the first visitor to these shores. Tracing Kupe's whakapapa and his connection to the islands and the ocean, his dramatic expedition on the waka Matahourua, and his climactic battle with the giant octopus Te Wheke-a-Muturangi, this thrilling odyssey, conceived as an epic poem by Taylor, spans myriad narratives ripe for rediscovery.
A charismatic and amiable orator, actor Tola Newbery makes every episode come to life. He infuses his extraordinary performance with creative modern flourishes and stirring waiata tawhito (traditional Māori songs). Mixing history, mythology and symbolism, Ka Tito Au is Kupe's legend as you've never heard it before. A marvel of storytelling everyone should experience.


Recommended for ages 8+
Performed in English
Please note: Those who have pre-registered are guaranteed a place, but it is likely that there will be room for additional people at all performances, so please feel free to come and register on the day.
Māngere Arts Centre – Friday 15 March 12.30pm | FREE | Register here
Barnett Hall, Piha – Saturday 16 March 2.00pm | FREE | Register here
Reweti Marae, Waimauku – Saturday 16 March 7.00pm | FREE | Register here
Depot Artspace, Devonport – Sunday 17 March 1.00pm | FREE | Register here
Warkworth Town Hall – Sunday 17 March 6.00pm | FREE | Register here
Piritahi Marae, Waiheke Island – Friday 22 March 7.00pm | FREE | Register here
Franklin Arts Centre, Pukekohe – Saturday 23 March 2.00pm | FREE | Register here
Te Oro, Glen Innes – Saturday 23 March 7.00pm | FREE | Register here
Uxbridge Arts Centre, Howick – Sunday 24 March 1.00pm | FREE | Register here
Waipapa Marae, Auckland Central – Sunday 24 March 6.00pm | FREE | Register here


Images: Eu-Lee Teh

"Tola Newbery's vocal prowess and graceful athleticism combine to create a riveting performance which embodies the soaring ambition of a demi-god who dreamed of greatness." – New Zealand Herald
Read the review here

Credits

Writer Apirana Taylor
PerformerTola Newbery
Director Murray Lynch
Originally commissioned by New Zealand Festival. Presented by arrangement with Playmarket
Dynamic storytelling… may it have the long life it deserves so many thousands more can enjoy it.

— Theatreview