AOTEAROA
Te
Kuia
Me
Te
Pūngāwerewere
(Toitū
Te
Reo)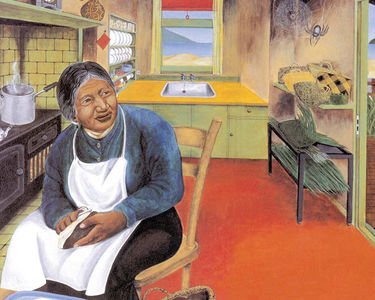 Te Kuia Me Te Pūngāwerewere, ki te atamira, mā te katoa
He mea hua i te pukapuka tamariki rongonui, i 'The Kuia and the Spider', a te kaitito, a Patricia Grace, rāua ko te ringatoi, ko Robyn Kahukiwa, he rekareka, he pukuhohe tēnei pakiwaitara tōmua e kīia nei ko Te Kuia Me Te Pūngāwerewere e tō nei i te minenga ki te ao pūngāwerewere.
I tēnei kura pakiwaitara, ka tohe te kuia ki tētahi pūngāwerewere nui i tōna kīhini, ka whakataetae ai kia kitea ai ko wai te toa raranga o rāua. Nō rāua e tohe tonu nei i tā rāua tohe auau, ka whiua ohoreretia atu a Kui rāua ko Pūpai i tō rāua kāinga i Paekākāriki ki te ao pūngāwerewere. I reira, i waenga i te iwi pūngāwerewere, me mahi tahi rāua e ora ai taua ao i ngā whiunga a te tangata.
He whakaari reo Māori katoa, heoi, e kī pai ana i ngā tohu ā-ringa me ngā nekehanga e mārama ai te katoa, he whakaari whakamīharo tēnei e whai oranga anō ai tētahi pakiwaitara o Aotearoa e kaingākautia ana e ngā tamariki me ngā mātua huri noa i te motu.

He pai mā te reanga 5+

Produced by
Taki Rua Productions
Capital E National Theatre for Children
Writer, Director Jamie McCaskill
Performer Amanda Noblett

Adapted from 'The Kuia and the Spider' by Patricia Grace with illustrations by Robyn Kahukiwa.
Te reo Māori translation by Hōhepa Waitoa.
Developed with the contributions of Matu Ngaropo, Kura Forrester, Scotty Cotter and Amanda Noblett, from an original concept by Geoff Pinfield, Tānemahuta Gray and Taki Rua Productions. Text copyright © Patricia Grace, 1982. Illustrations copyright © Robyn Kahukiwa, 1982. First published by Puffin Books. This adaptation published is by arrangement with Penguin Random House New Zealand Ltd.
Supported by