Aotearoa NZ
John
Scott
Works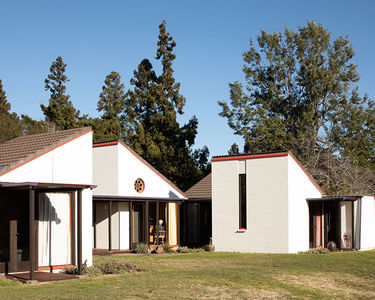 Photographer David Straight explores the essence of acclaimed New Zealand architect John Scott's work
John Scott Works is a personal visual response to the work of acclaimed New Zealand architect John Scott. Photographer David Straight explores the essence of Scott's work – from intimate images of architectural details and moments, to ideas rooted in te ao Māori which are found in his buildings. It is a celebration of one of New Zealand's most important architects and a timely acknowledgment not only of his work but also his place within our wider cultural context.
SPECIAL EVENTS
Coffee & Croissants with David Straight and Sam Hartnett
Sunday 10 March 10am for coffee / Talk begins 10.30am
Objectspace
$8 (Places are limited) Book here
Join us for coffee, croissants and some great conversation with photographers David Straight and Samuel Hartnett. Both photographers of the built environment, David and Sam will discuss John Scott Works and the recently closed Objectspace exhibition Ex Libris, both projects which pay homage to buildings under threat in Aotearoa. 
Together the two photographers will divulge some of the joys and difficulties of documenting urban spaces and architecture. Discussing the role the image plays in celebrating the spaces we use and inhabit every day.
Coffee and croissants will be provided. Coffee pouring from 10am and talk begins at 10.30am. Thanks to Studio Italia, Allpress and Amano.

About the photographers
David Straight was born in Christchurch, raised on the West Coast, and graduated from Massey University School of Fine Arts, Wellington. He is a photographer whose work focuses primarily on architecture and the built environment, and he now works with many leading New Zealand architects.
Samuel Hartnett is an Auckland photographer who specialises in architectural and art documentation photography. His exhibition Ex Libris which closed at Objectspace in February 2019 documented three specialist, purpose-designed University of Auckland libraries facing closure.
A Building's Life
Thursday 14 March 6pm
Objectspace, Ground Floor 
FREE
In September 2016, the Āniwaniwa Visitor Centre near Lake Waikaremoana designed by John Scott was demolished by the Department of Conservation, despite widespread opposition from the architecture community and heritage advocates.
Jeremy Hansen will lead a panel discussion exploring the life of the building, considering how we value, understand and provide stewardship for architecture in Aotearoa, and how we navigate the cultural, economic and social forces that might determine a building's end.
Jeremy Hansen writes about architecture and design, and was curator of the 2018 New Zealand Festival of Architecture. He grew up near Lake Waikaremoana and was a frequent visitor to John Scott's Āniwaniwa Visitor Centre. He featured some of Scott's works in the pages of HOME magazine during his 11-year stint as editor there, as well as in his 2013 book Modern: New Zealand Homes from 1938 to 1977.
Looking at the City: Walking Tours with David Straight and Finn McCahon-Jones
Saturday 16 & Saturday  23 March 11am (duration: 60 mins)
Auckland CBD
$25 (plus booking fees). Book here
Explore Auckland through a photographer's lens. See downtown Auckland from different views from the micro to the macro including at the height of a parking building and hidden vistas between Hobson Street, Britomart and Albert Park. This tour is best-suited to beginner photographers and photography enthusiasts to look at the built environment in new ways. 
Comfortable walking shoes and clothing recommended. Bring a camera phone, a DSLR or anything in between.
Tributes to John Scott
Thursday 21 March 6pm
Objectspace, Ground Floor 
FREE
An evening of creative responses to the life and work of architect John Scott. Curated by poet and writer Gregory O'Brien, Tributes to John Scott will feature eight responses to the beloved late Māori architect. Join us for a selection of musical, poetic and written responses, fast paced and ranging in form, celebrating Scott's lasting impact on architecture in Aotearoa.
Gregory O'Brien is a poet, painter and writer. He co-wrote Futuna: The Life of a Building, published in 2016 by Victoria University Press. Other recent books include Whale Years (Auckland University Press, 2015) and See What I Can See: New Zealand Photography for the Young and Curious (Auckland University Press, 2015).

Images
Futuna Chapel, John Scott, 1958-1961. Image: David Straight
Martin House, John Scott, 1969-71. Image: David Straight