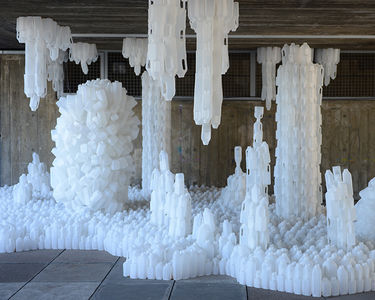 Gayle Chong Kwan: Wastescape - weaving landscapes of politics, dairy and waste.
An immersive installation by British artist Gayle Chong Kwan, Wastescape explores New Zealand's relationship with food and dairy through craft techniques and waste, and uses thousands of used plastic milk bottles and photography to create otherworldly landscapes.

Chong Kwan is an artist whose photographs, sculptures, events and installations are exhibited internationally, both in galleries and in the public realm. Her work explores simulacra and the sublime through constructed environments, imagined futures, ritual experiences and sensory registers.

Additional Event
Wastescape Panel Discussion
Saturday 9 March 4pm
Villa Maria Gallery, ASB Waterfront Theatre
FREE
Wastescape weaves thousands of milk bottles into a mesmerising image that reflects our consumer habits, particularly of plastic used by the dairy industry in New Zealand. Exploring the environmental impact of excessive waste, the artist discusses the role of artists in building awareness of human responsibility in the pollution of our planet. The discussion will tease out the beauty and brutal reality of an otherworldly landscape made of waste. Join artist Gayle Chong Kwan and a panel of experts as they discusses the role that art and artists have in shaping environmental awareness
 
Gayle Chong Kwan talks to RNZ National about Wastescape. Listen to the interview here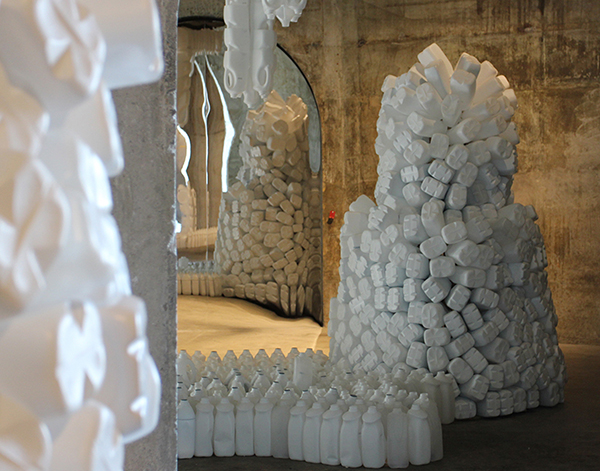 Gayle Chong Kwan, Wastescape – weaving landscapes of politics, dairy and waste, 2019 (install view)
Silo 6, Auckland
Commissioned by Te Tuhi, Aotearoa New Zealand, and Invisible Dust, UK, in partnership with Humber Museums Partnership
Image: Andrew Kennedy

Header Image: GAYLE CHONG KWAN, WASTESCAPE, SOUTHBANK CENTRE, LONDON, 2012
Wastescape is commissioned by Te Tuhi, Auckland, in partnership with art and environmental organisation Invisible Dust, UK, and the Humber Museums Partnership, UK.
[Wastescape] combines both innovation and installation to create a fantastical mise-en-scène landscape.

— Phoenix Magazine