Aotearoa NZ
South
Auckland
Poets'
Collective:
The
First
10
Years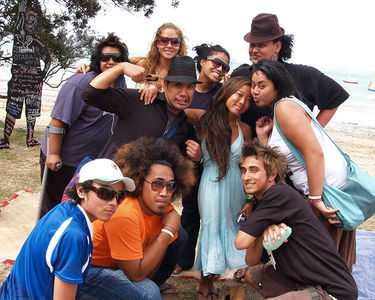 Works by poets from the renowned South Auckland Poets Collective (SAPC) are on display for the first time
The exhibition, South Auckland Poets' Collective: The First 10 Years, features unique insights into this compelling literary and performance movement and the 35 poets who have come through SAPC over the past decade. Experience an eclectic array of stories, experiences and personal truths through the collected works displayed alongside ephemera, interviews and recordings.
The group officially formed in 2008 and works by co-founders Grace Taylor, Ramon Narayan, and Daren Kamali feature in the gallery spaces, alongside a suite of work by 32 other poets.

The collective uses spoken word, written and slam poetry as tools for positive social change. Within this collective are national and international poetry slam finalists, award-winning published poets, performers, and champions.
Exhibition continues until Saturday 6 April

Curated by Daren Kamali with Sharon Smith
Featuring works by
Grace Taylor, Ramon Narayan, Daren Kamali, Marina Alefosio, Ken Arkind,  Te Karere Scarborough, Jai McDonald, Luti Richards, Andrew Harding, Onehou Strickland, Solomon Brown,  Pisi Fa 'aauro, Mafi Tufunga, Ria Masae,  Monica Cheung-Fuk, Norman Tiumalu, Sacha Renée Norrie, Elina Ahau Kaukaupolata Luani, Lastman So'oula, Ryan Teura, Maryanne Pale, Rewa Worley, Sheldon Rua, Ashleigh Fata, Victor Kalolo, Laurent Dunningham, Tarah Ross, Mohamed Hassan,  Clara J Sione, Esther Grace, Raneem Caco, Roimata Prendergast, Dietrich Soakai, Alyena Martinez, Stevie Sikuea.