AUDIO DESCRIBED PERFORMANCE
A
Man
of
Good
Hope
(Touch
Tour
&
AD)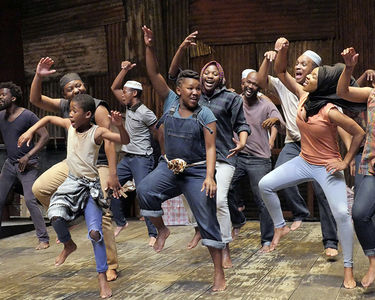 Come and experience a touch tour and the audio described performance of this spellbinding musical theatre triumph
Saturday 16 March
Touch Tour 12.30pm
Audio described performance 2.00pm
Tickets $20 Access Tickets Allocation Exhausted. Tickets available at concession prices: A Res $83 / B Res $63
Escaping the ravages of civil war, eight-year-old Asad is a street smart survivor. Hustling his way from a refugee camp to the shantytowns of Ethiopia, Asad sets his sights on the bright lights of South Africa. But the tough reality of this promised land sends our resilient hero on a whole new, perilous adventure.
Energised by the joyous sounds and swagger of one-of-a-kind South African company Isango Ensemble, working in collaboration with the UK's Young Vic, A Man of Good Hope is a musical theatre spectacle pulsing with the most urgent humanitarian crisis facing the world today. Critically acclaimed in London and New York, it's a powerful and hopeful odyssey of forced migration, stunningly expressed by an electrifying cast of performers whose dynamic song and dance, accompanied by marimba and steeped in African tradition, will make your heart swell and your spine tingle.

Take an epic journey through Africa with this extraordinary true story, brought to life by the most irresistible music.
 
 "Bursting with life, this is a full-blooded hymn to hope" – Daily Mail
Recommended 10+
Contains loud noises and adult themes


TO BOOK
Phone 09 374 0310
OR
Book online using the Google booking form HERE

OR

Download a booking form
Low-vision (white background) HERE
Low vision (navy background) HERE
Screen reader friendly HERE 

Standard  HERE
Email the completed form to [email protected] 
Phone 09 374 0310 if you would like assistance to book, transport advice or to request a companion
Based on the book by Jonny Steinberg

Credits
Direction Mark Dornford-May
Conductor Mandisi Dyantyis
Music Direction  Mandisi Dyantyis
Movement Lungelo Ngamlana
Lighting Mannie Manim 
Speech and Dialogue  Lesley Nott Manim 
International Producer  Claire Bejanin 
Images: Keith Pattison
A Young Vic and Isango Ensemble Production
Co-produced by The Royal Opera, Repons, BAM and Les Théâtres de la Ville de Luxembourg

With support from
Gold Patrons Bill and Frances Bell

Presented by arrangement with