ASB Waterfront Theatre
ASB Waterfront Theatre is Auckland's new state-of-the-art performing arts facility located in the Wynyard Quarter.
VENUE DETAILS
138 Halsey Street, Wynyard Quarter, Auckland 1010.
Auckland Theatre Company Administration and Rehearsal +64 9 309 3395 
Website 
GETTING THERE
See below for information about getting to ASB Waterfront Theatre. For general advice on travelling within and to Auckland, visit  Auckland Transport



Closest bus stops are
63 Jellicoe St, 350m walk, bus routes 010, CTY
Fanshawe St outside Vodafone, 600m walk via Halsey st, seating and shelter is available at this stop. Bus routes 881, 891X, 951, 953, 955, 958, 971, 972, 973, 974, CTY, NEX
Fanshawe St near Victoria Park, 700m walk, seating and shelter is available at this stop. Bus routes 76X, 85X, 86X, 87X, 802X, 822, 839,858, 863X, 873X, 874X, 875, 877X, 879, 881, 891X, 900X, 921, 922, 945X, 950, 952, 953, 955, 958, 970, 971, 972, 973, 974, 991X, 992X, N83, N97, NEX.
Quay St Outside PWC, 800m walk across Wynyard crossing. Bus routes 950, 955, 958, 970, 973, 974

Parking Options
Jellicoe Street Car Park. Entrance off Beaumont Street and Madden Street. First hour of carparking free seven days a week. Monday to Saturday every hour thereafter is $6 per hour to a maximum of four hours. On Sunday and public holidays, every hour thereafter is $2 per hour to a maximum of four hours.

Hamer Street Car Park. Entrance off Hamer Street. The Hamer Street car park is available for theatre performances and events from 5:45pm on show days Monday to Friday, and from two hours prior to the show time on Saturdays and Sundays. The car park closes 30 minutes after the end of the day's final performance. 
For information on disability parking close to the theatre, please click here.

Although there is no designated taxi rank in the Wynyard Quarter taxi companies do pick up from outside the theatre. The theatre concierge can assist patrons into the taxi.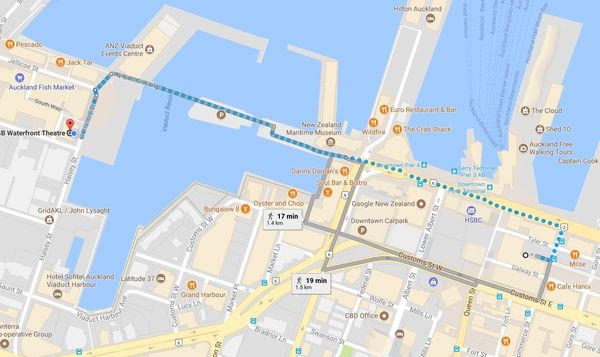 VENUE ACCESSIBILITY

There are three levels including ground floor that are all accessible by lift.
A voice announcement will tell you what floor you are on and which direction you are travelling in. Level 1 is ground floor, level 2 is Stalls, Doors A & B, level 3 is Circle, Doors C & D and Villa Maria Gallery. There is level access from the street to the bar, café, toilets, coat check and box office.

There are three wheelchair user positions situated in the Stalls. ASB Waterfront Theatre has a wheelchair available to customers to use for short term loan during events

Wheelchair accessible toilets are located in the foyer (Ground Level) as part of the main toilet area. Additional wheelchair accessible toilets are on both the Stalls and Circle levels, but are located back of house - if you need to use these, please talk to a member of staff.

Assistance dogs are welcome in the venue. The theatre is also able to look after assistance dogs and provide water for them.during the show

Hearing aid loop is installed in the ASB Waterfront Theatre.

Click here for further accessibility information at ASB Waterfront Theatre