School Performances
Astroman
(Schools)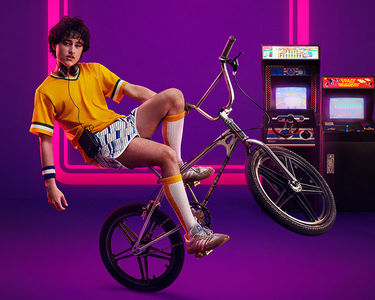 Laughter. Mischief. An epic 80s soundtrack. Tons of Kiwi soul.
SCHOOL PERFORMANCES – For the main event page for Astroman please click here
Aw kia ora you fulliz, my name's Hemi Te Rehua, but everybody just calls me Jim. Welcome to Whakatāne!
It's 1983 and it's on like Donkey Kong! Young Hemi 'Jimmy' Te Rehua is the king of the Whakatāne Astrocade Amusement Parlour. But while there's no limit to his domination of the Pac-Man and Galaga high score charts, this boy genius hasn't yet worked out how to beat the game of life. With the help of the Astrocade's grouchy owner and his plucky mum, Jimmy learns how to stand up to bullies and what it really means to be brave.
Charming and hilarious, this heartwarming throwback to the decade of Poi E, Michael Jackson, and Spacies arcades oozes sweet 80s nostalgia and the good old times of growing up in small-town Aotearoa. In the spirit of classic coming-of-age movies Stand by Me, The Karate Kid, and Boy, Astroman's touching Kiwiana story of family, friendship, and courage will have you reaching for the stars. A fun-filled retro comedy for the young and young-at-heart.


Recommended for ages 13+
Contains Strong language
School performances
Suits Years 9-13 Drama and English students (aged 13+)
Dates Wednesday 27 March, Tuesday 2 April and Thursday 4 April 11.00am
Venue Rangatira, Q Theatre
Tickets Students $17, Teachers $20. One free teacher per booking
Note: Contains frequent use of strong language, threats of violence
BOOK HERE
Credits
Writer Albert Belz
Director Tainui Tukiwaho
Performers include
Nicola Kawana, Miriama McDowell
Produced by