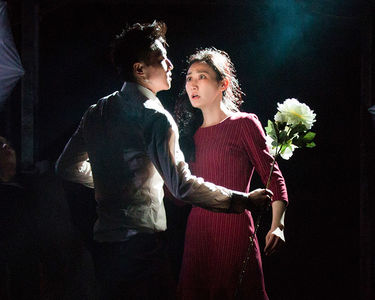 Thrilling physical theatre. East meets west and Shakespeare is transformed.
Desperate to escape a humdrum life and the social pressure of finding a husband, Helena retreats to her dreams, where she encounters the man of her dreams. But this courtship is no stroll in the garden for our beautiful heroine, who must fight her way through a series of extraordinary visions, nightmares and memories if she is to make true love a reality.
Inspired by A Midsummer Night's Dream and Tang Xianzu's mythical romance The Peony Pavilion, The Dreamer is unlike any other Shakespeare adaptation – an imaginative, free-flowing work that seamlessly blends movement, melodrama, comedy and live music into the most bewitching storytelling.
In collaboration with British physical theatre gurus Gecko, the Shanghai Dramatic Arts Centre have not only injected new life into classic texts but given them a vibrant modern twist. Featuring stunning shadowplay, an immersive soundscape, exceptional set design and an all-Chinese cast of powerfully expressive performers and musicians, The Dreamer is a feast for the eyes and the ears. Prepare to be transported.
Told primarily through movement with some spoken English and Mandarin

EXTRA: Pre-show talks
Thu 21 Mar & Fri 22 Mar 6.00pm: Wintergarden, The Civic
FREE for ticketholders


Watch the trailer here
"There's this idea that you can find your love through magic or potions, or in a dream. But where is the truth? Where is the real love?"
Read more from the creators of The Dreamer here
Listen to RNZ Concert interview with Gecko Theatre's Chris Evans here
Opening Night Audiences Loved The Dreamer. Watch the video here

Images: Yin Xuefeng
Reviews from the Auckland season

 "... a blur of motion, a series of arresting images mixed with comedic scenes and moments of mystery, longing and romance." – NZ Herald
Read the review here
"The Dreamer could be the most outstanding production of the Festival for staging, sound and lighting. The beautiful performances of the whole company from Shanghai seem to create light and sound out of their expressive movement." – Radio13
Read the review here
Enjoy a 'Mojo Moment' with The Dreamer cast members Yang Ziyi and Wu Jingwei here

Credits

Executive Producer: Yang Shaolin
Artistic Director: Lv Liang
Supervisor: Tian Shui
Artistic Director of Gecko: Amit Lahav
Producer: Wu Jia  / Rosalind Wynn
Associate Producer: Tang Shi [China]
Director: Richard Rusk
Movement Director: Christopher Evans
Composer: Dave Price
Dramaturg: Nick Yurongjun
Stage Designer: Rhys Jarman / Sang Qi
Lighting Designer: Chris Swain / Wang Beijun
Sound Designer: Wang Yixuan
Costume Designer: Rhys Jarman  / Leng Jia
Set Designer: Cui Haigang
Prop Designer: Liu Yiping
Stage Manager: Luo Jixin
Assistant Director: Fang Ge
Assistant Stage Manager: Chen Longqing
Performers: Yang Ziyi, Liu Peng, Lan Haimeng, Wu Jingwei, Yang Jingran, Chen Shan, Wang Weishuai, Zhou Zidan
Musician: Ni Peiwen
Presented by

Shanghai Dramatic Arts Centre in association with Gecko Theatre Company

Supported by



Professional Workshops
Supported by
The British Council


★★★★★ A stunning production… this is one show that should be on the top of your list to see this year.

— British Theatre Guide