GECKO THEATRE COMPANY
3-DAY
DEVISING
INTENSIVE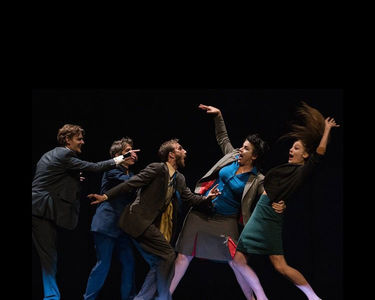 Join Gecko Devising Performer and The Dreamer Movement Director Chris Evans for a three-day training intensive for professional performers.


Gecko is one of the UK's leading physical theatre companies creating exciting and innovative new performance that thrills audiences all around the world. Founded in 2001 by Artistic Director Amit Lahav, Gecko's work is visual, visceral and ambitious and they create work through collaboration, experimentation and play.
This unique training opportunity allows professional performers to delve into the world of Gecko and to learn about the company's approach to physical theatre and gain an insight in to their creative process when devising for performance.
Through a series of highly physical, dynamic workshops, you will focus on methods for creating movement for performance and use breath to explore emotions, expanding your creative toolkits. Participants will be nurtured and challenged in their artistic decision-making and performance skills, coming together to create a short ensemble piece at the end of the intensive.
You'll gain an insight into Gecko's creation process as well as tools and advice for devising and performing that you can use in your own practice.
The intensive is for performers who have a professional dance and/or theatre practice.
Entry strictly by application.
INTENSIVE DETAILS
Date: Thursday 21 – Saturday 23 March 10am – 5pm
Venue: Grey Lynn Library Hall
Cost: $60/participant (max. 16)
Please apply HERE by Friday 8 March
Successful applicants will be notified by 10 March 2019

For all enquiries, please contact:
Steph Walker – Senior Programme Manager
[email protected] | DDI 09 374 0331
About the Artist
Chris Evans began his career with Hofesh Shechter Company as one of the original performers and continues a creative relationship with the company. Chris has worked with Gecko since 2011 on the creation and worldwide touring of Missing and Institute and worked as Movement Director on the company's first international co-production, The Dreamer (with Shanghai Dramatic Arts Centre).
The Dreamer has been brought to Auckland Arts Festival 2019 with assistance from 


Professional Workshops Supported by