AOTEAROA NZ
A
Synthesized
Universe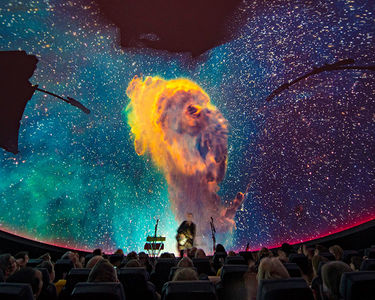 Mesmerising music and the mysteries of the cosmos
A unique collaboration between songwriter and planetarium, A Synthesized Universe is a show of total wonder and immersion – a 360-degree performance using awe-inspiring science and a surreal sense of storytelling to take audiences on an interstellar journey through the known universe.

Critically acclaimed musician Anthonie Tonnon performs while Stardome's planetarium is operated in real time; using Stardome as a kind of visual instrument to evoke the vastness of the cosmos. Alongside custom animations by Andrew Charlton, Tonnon performs on a storied 1968 electric guitar and a new Wellington-designed synthesizer-sampler which also controls the lights, making this a multi-sensory experience.
Following sold-out seasons at Otago Museum, Tonnon brings his captivating, buzz-worthy show to Auckland and Stardome for the very first time

Credits
Anthonie Tonnon
Stardome Observatory & Planetarium
This project is a collaboration between Anthonie Tonnon and the digital creative team at Otago Museum's Perpetual Guardian Planetarium.