Aotearoa NZ
The
Bookbinder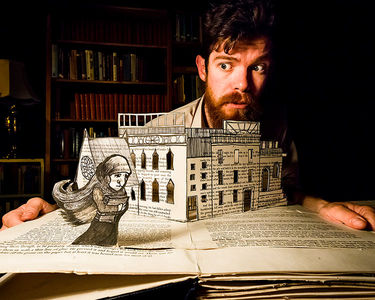 Spellbinding storytelling at its very best. An inventive tale of mystery, magic and mayhem.
 Download the programme for The Bookbinder here
"They say you can get lost in a good book. But it's worse to get lost in a bad one …"

From award-winning company Trick of the Light Theatre, The Bookbinder weaves shadowplay, paper craft, puppetry, and music into an original fairytale in the vein of Coraline and Neil Gaiman – a delightfully dark and imaginative theatre gem for curious children and adventurous adults.
First performed in the back room of a secondhand bookshop, The Bookbinder has toured across Australia, New Zealand, South Africa, the UK, and USA, and finally comes to Auckland. Acclaimed through sell-out seasons at the Edinburgh Festival Fringe in 2015 and 2016, it has received many accolades including Best Theatre, and Best in the Fringe at NZ Fringe 2014, the International Excellence Award at Sydney Fringe 2014, and the Children's Theatre Award at Fringe World 2015.
For ages 8+


Watch the trailer here

Credits
Written and performed by
Ralph McCubbin Howell
Director Hannah Smith
Composer and Sound Design
Tane Upjohn Beatson



Supported by